1969 Honda CB750
Sandcast #538
Parked 30 Years Ago
I bought this 1969 Honda CB750 Sandcast from the original owner who rode it regularly until 1990 and parked it in his barn. Amazingly, he had not swapped any parts on the entire bike; every ultra-rare part from the round oil filter cover to the "28" carb caps were still on the bike. The bike had a lot of corrosion and wasn't running. Time for a full restoration!
Instead of writing about the restoration, I decided to film it! Take a look…
The Restoration
It was clear as soon as I rolled the bike into my tiny garage that this was something special. Knowing that the 50th anniversary of the bike was fast approaching, I decided to film as much of the restoration as possible. I do all of the work on my restorations (except metal plating…haven't figured out how to safely do chrome in my garage yet). Before I could do anything, I had to set up my iPhone and check the lighting. Then, I would work until I needed a different angle. Over and over again! The result was more than 40 hours of time-lapse footage of 487 hours of work!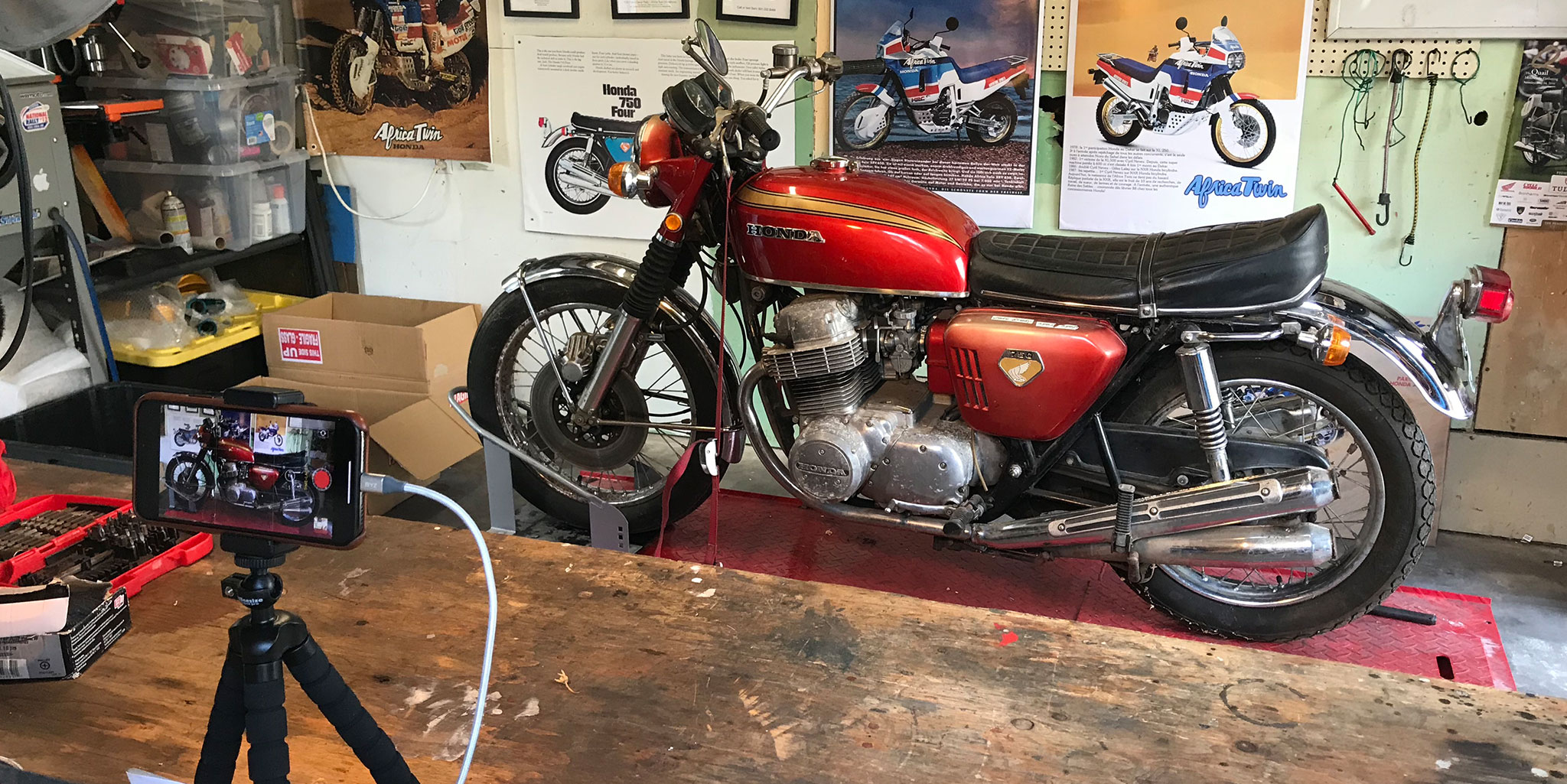 I am particularly pleased with how well the engine turned out. Each engine has a different personality. Sandcast #539 is remarkably smooth. It has wonderful power with a beautiful exhaust note from the "Lotus Roots" exhaust. On top of all that, it happily idles around 900 RPM. The Honda engineers knew what they were doing more than 50 years ago!
A New Level of Paint
One aspect of the restoration that I was determined to improve on was the paint. As with Sandcast #1378, this bike was going to be painted candy ruby-red. Candy paint is tricky because it is partially transparent. So if you lay down too much candy it will be too dark. Too little and it will be too light. This aspect of candy paint made painting tight spots like around the tank filler neck very difficult. Many high quality paint jobs will have a light ring or sometimes a dark ring around the filler neck because there is a different amount of candy paint. My solution to this problem was to paint the filler neck and gas cap hinges separately from the rest of the tank with an air brush. I then went back and painted the candy on the rest of the tank as normal. The result was beautiful even candy paint in difficult-to-paint places!
I also decided that I wanted to paint the wrinkle tank stripes. Why? Early sandcasts have painted stripes! Though decals used on many restorations look great, I wanted to make the paint as accurate as possible. Might as well do it right! The key is to have a an original early wrinkle tank to get accurate stripe measurements. The black went down first, then a fine gold metallic. The stripes were on top of several clear coats and under several more clear coats. It turned out amazing!
I went all out on the paint for this bike. In fact, I painted the tank six times before I was happy with it. I'm glad I did; the bike has fantastic paint and I learned a lot!
2019 Quail Motorcycle Gathering Class Winner and Best of Show
I have attended the Quail Motorcycle Gathering for many years. It is a beautiful show in a gorgeous location. Best of all are the bikes that are brought there; second to none. It is now widely considered the most prestigious motorcycle show in the United States. In late 2018 it was announced that a "50 Years of the CB750" class would be featured at the 2019 show. I made it my goal to bring all three colors of the original CB750 lead by the candy ruby-red Sandcast #538.
As usual, the 2019 Quail Motorcycle Gathering brought some amazing machines. It was an honor and thrill just to be included. Imagine my surprise when I was informed that Sandcast #538 had won an award! I wasn't told what the award was for though…hmmmm. As I made my way to the stage, I was told that the bike was actually winning two awards. They were still mum on what the awards were through. By this point, I didn't know what to think. Was this a joke?!
When it was my turn to ride on stage, I heard the announcement that I had won the "50 Years of the CB750" class. I was through the roof. What a moment! To win an award for a bike that was so special to me on its 50th anniversary at the most prestigious show in the country! I mumbled my way through thanking my wife for her support and how much I thought of these bikes. As I rode off stage I was directed to go backstage again. All of the sudden I noticed that all of the event coordinators and judges were smiling at me. A sweet woman running things backstage came up to me grinning ear-to-ear and said "congratulations, you won Best of Show."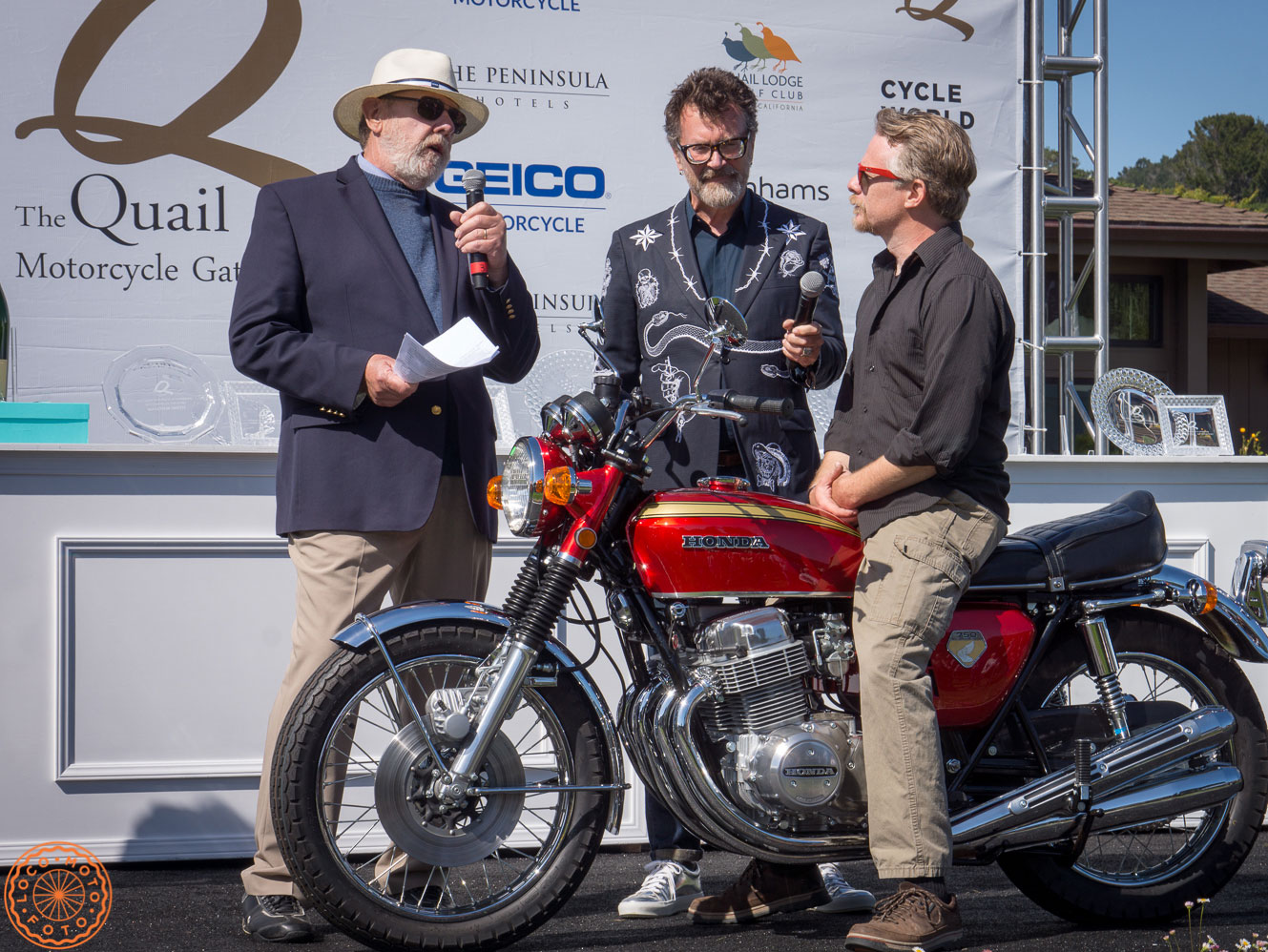 I was speechless.
I could only nod and quietly thank her as I listened to Paul d'Orleans and Chief Judge Summer Hooker welcome me on stage to accept the award. It was a thrill. I'm honored to have won amongst so many other exemplary machines. Though I do not restore bikes to win awards, I must admit that it felt pretty darn great to work so hard on Sandcast #538 and be recognized for that work. Thanks to everyone.
Photos